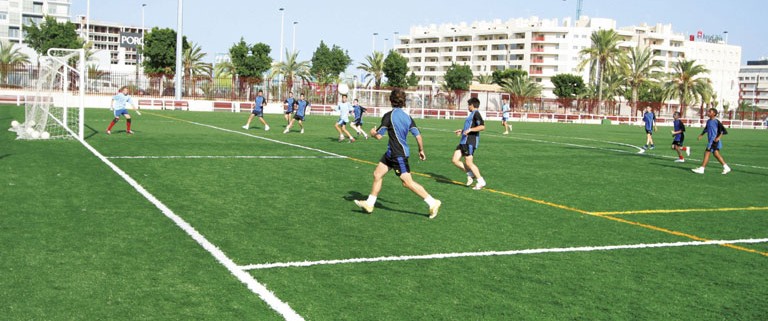 Synthetic Grass for sports in Dubai
There is only one type of grass in Dubai that looks great all year round and can stand up to the toughest of use and harshest of weather – that's synthetic grass, and that's why it is increasingly being used for all kinds of sports in Dubai and the United Arab Emirates. In a region with soaring temperatures that are just not kind to natural grass, synthetic grass for sports in Dubai truly is the practical choice.
Dubai has come into its own in recent times, and so has its sports sector; whether for personal enjoyment or at club or international level. Keeping a pitch green and usable with natural grass has proven to be a frustrating, costly and time-consuming affair in Dubai, leaving many to look for real alternatives that will have their pitches in stellar shape all year around.
Here at Easigrass, the leading artificial grass company in Dubai, we have the answer. No matter the sport you play in Dubai, from football and rugby to cricket and athletics, our synthetic grass for sports will do an incredible job. The added advantage of using our synthetic grass for sporting events is that unlike natural grass, it isn't ripped to shreds by heavy use. You only have to look at a natural grass football or rugby pitch after a match to see large areas of it destroyed and shredded by studs.
There's no need to go to the expense of constant maintenance and repair with Easigrass synthetic grass for sports; it's perfectly able to take the wear and tear of any sporting event in Dubai, along with the constant high temperatures and sunshine that would threaten to kill natural grass off. The advances in the development of our synthetic turf products – which are made with an inbuilt UV defender to protect them from harmful radiation from the sun – mean the synthetic grass not only looks like the real thing but is also much safer for players.
Plus, you won't have to water your synthetic grass in Dubai, or remove any weeds. It also doesn't require any fertiliser or pesticides, saving lots of time, effort and money. Dubai sports players, especially football, will perform better and spectators will enjoy an enhanced game on beautiful synthetic grass that's fully guaranteed by us and designed to last.
To find out more about Easigrass and how it can give your sporting events in Dubai a big boost, get in touch with us today and our experts will be happy to tell you more.
https://easigrass.ae/wp-content/uploads/2016/05/sythetic-grass-for-sports-dubai.jpg
512
768
Easigrass Dubai
https://easigrass.ae/wp-content/uploads/2017/06/artificial-grass-dubai-easigrass_2x.png
Easigrass Dubai
2016-01-28 09:42:12
2021-09-22 12:07:22
Synthetic Grass for sports in Dubai