Springs Family Goes Artificial
Alex and Lucy Johnson, new parents and new to villa life made contact with Easigrass Dubai to help them turn their crazy paved back yard into a place to relax and somewhere for their new baby girl to discover her senses. They felt the low maintenance sensible choice was artificial grass. We asked the Johnsons if they would mind doing a full case study from start to finish, describing their experience with Easigrass and the actual product we installed.
"We were faced with a pretty sparse back garden when we first moved into our villa in the Springs area of Dubai. We a have a few friends who have artificial grass and we also contacted some of the Facebook groups to seek advice first, before approaching companies" said Lucy. "After many discussions and recommendations from social media and friends we decided to go with Easigrass Dubai, having been quite wary of the actual installation part of the process due to hearing horror stories of poor experiences people have had with other, cheaper companies."
As the Johnsons were renting their property we recommended them our mid price range artificial grass product – Easi-Knightsbridge, which is a soft but durable 30mm pile height. This gives them plenty of 'bounce' for their little baby to learn to crawl and walk on, but still hard wearing for entertaining on.
"We were happy to pay that little bit more for the fake grass installation from Easigrass as we'd been warned about companies 'pinning' down the astroturf rolls with large spikes and nails around the edges. We were shown images of gardens where the spikes had come loose and were visible which sent huge alarm bells ringing, especially with us wanting our baby daughter to be able to enjoy the grass herself."
Our sales team talked the Johnsons through the complete process from start to finish and eased their mind regarding safety of artificial grass for young children and pets.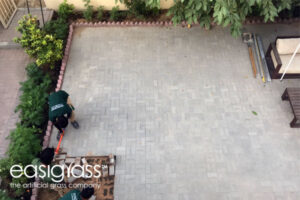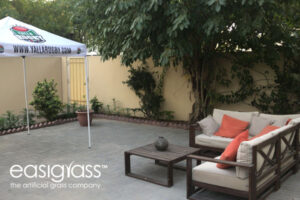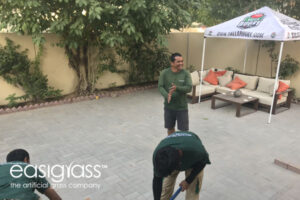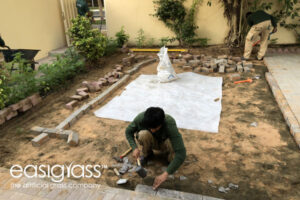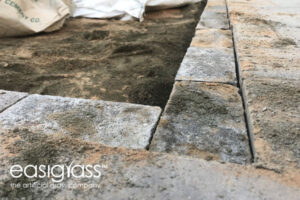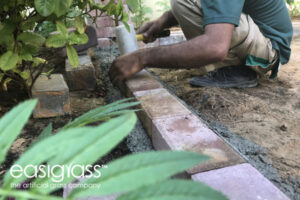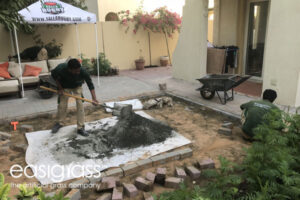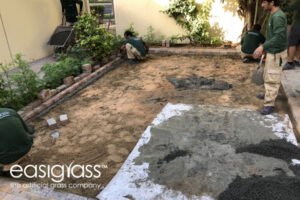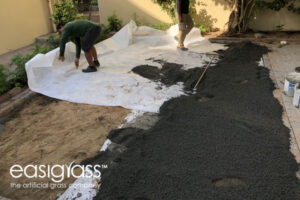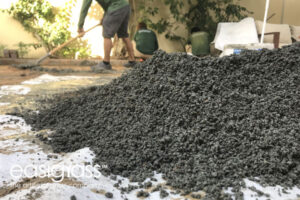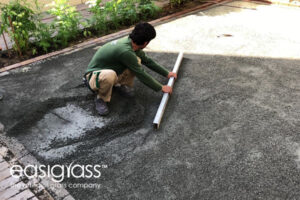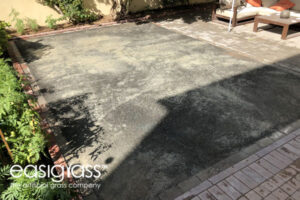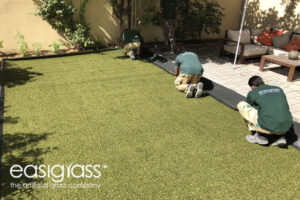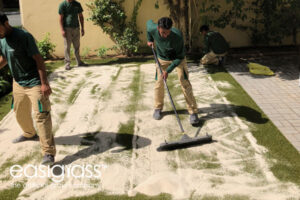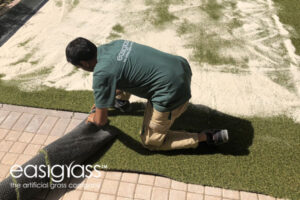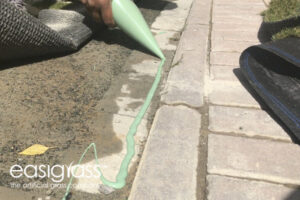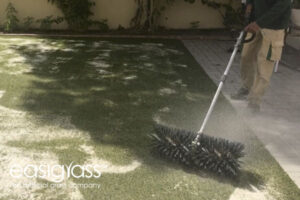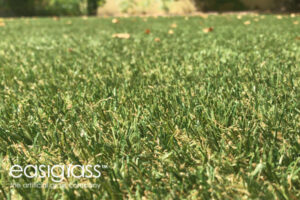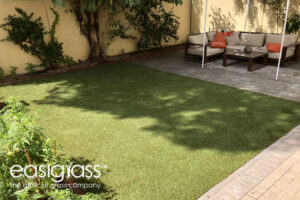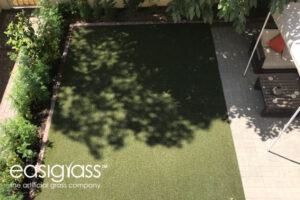 "The Easigrass team turned up bang on time and were very polite and well presented. We were expecting our back garden installation to take at least a full day, but they completed within 4 hours which was amazing as we had guests flying out that evening to stay with us. Once the work was done, Easigrass tidied up and left the garden immaculate." said Lucy.
Alex and Lucy were able to take video footage and some images for us to show the work we had completed for them. After the installation was complete and they had been left for a couple of weeks to enjoy their new garden, we asked them how it's changed their enjoyment of their garden space.
Alex told us,
"Dubai is the place you come to get your head down and work hard, so we all live very busy lives. I have a Dubai rugby website that I'm in the process of turning into a business which eats up a huge amount of my time, so the last thing I want to be doing is garden maintenance after a hard week, when I should be relaxing with my family in the garden. Before the grass was fitted into our back garden, we never really used it as it was so bare and un inspiring. Since we've had Easigrass it's really become and extension of the house so acts as another room really. We're having BBQs every week and absolutely loving villa life."