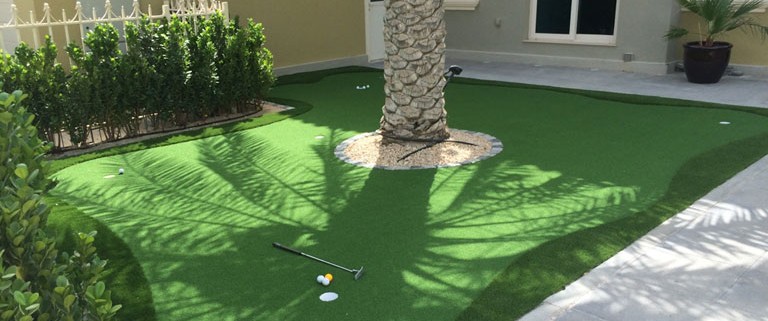 Golf is one of the most popular and enjoyable sports in the entire world and it is enjoyed in countries all across the globe. If you have ever played golf, you won't need anybody to tell you that it can also be the most frustrating sport on the face of the earth. When you're playing well, there's no finer game, but when you're dropping shots left, right, and centre, it can bring out in a rage in you that would make the incredible Hulk look like a church mouse. Golf is very much a game of consistency as all it takes is one poor hole or one dropped shot to make a great round into an awful round. For many people, putting is by far the hardest aspect of golf as they will make it to the green no problem, but will then drop shots trying to get the ball into a hole from a few yards away. With golf, particularly putting, practice makes perfect so why not consider an artificial putting green for your backyard? These artificial grass putting greens are proving incredibly popular and here's a look at how they could help you to improve your golf game.
You can practice your putting – The only way you're ever going to become a better golfer is by practicing, particularly your putting. Even if you feel your putting is a strong point, experts recommend practising at least 2 hours each week, spaced out over several days. Having an artificial putting green installed in your garden in Dubai means that you can practise your putting to your heart's content. You can work on your short putts, your long putts, trick shots, or anything putting related for that matter.
You can practice chipping – Another benefit of an artificial putting green is the fact that you can also practice chipping onto the artificial putting greens from further away in your garden. Pitching and chipping are two more incredibly vital aspects of golf, so you would be wise to focus on these aspects of your golf game as opposed to just your putting.
They're a whole heap of fun – If you were to have a natural putting green in your garden, you would need to maintain the grass and cut it incredibly finely, pretty much every single day. They require constant water, care, maintenance and attention and are just not practical. An artificial putting green however is perfect because it can play the finest green you would find on a professional golf course. It then has the added bonus of requiring virtually no maintenance in the slightest. Because of this, you and your friends can focus on practising and having fun instead. Having fun on an artificial putting green and enjoying what you're doing is only going to serve as motivation to help you get better and better.
https://easigrass.ae/wp-content/uploads/2016/03/artificial-grass-sports-013.jpg
512
768
Easigrass Dubai
https://easigrass.ae/wp-content/uploads/2017/06/artificial-grass-dubai-easigrass_2x.png
Easigrass Dubai
2015-09-26 16:52:53
2021-09-22 12:11:22
An Artificial putting green in Dubai