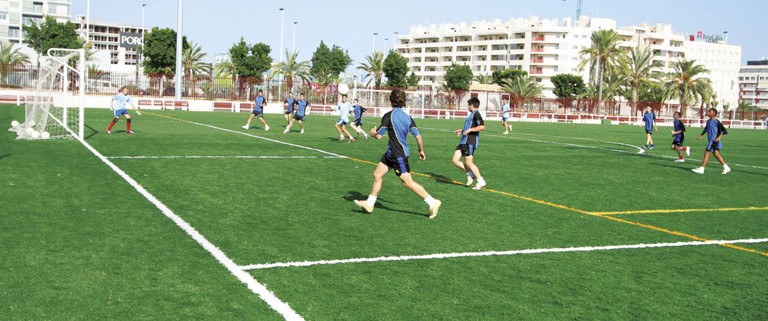 Ancient sports like camel racing and falconry have always been popular in Dubai. In recent times, the sporting scene in Dubai has evolved due to the increasing number of ex-pats and visitors from around the world. Whether it's attending major international sporting events, or playing for leisure, you won't have to go far to enjoy your favourite sports. The beauty of being a spectator or taking part in sports in Dubai is that the scorching heat doesn't need to affect the surface of the game. We'll give you a run-down of some of the most popular sports in Dubai that can be played on artificial grass.
Football Sports Grass
What can be better than playing the beautiful game in a beautiful city like Dubai? The icing on the cake is that playing football on artificial grass makes ball control even smoother and provides a more comfy experience for players. Forget about the rough and gritty turf that was used in the 1990s. Our artificial grass not only looks like the real deal but it's practical as well. There's no slipping and sliding as our synthetic grass increases the grip on studded boots. If you doubt the suitability of artificial grass for your football pitch in Dubai, just take a leaf out of FIFA's book. The international governing body of football endorses the use of artificial turf.
Rugby Sports Grass
It's hard to deny the growing popularity of rugby in Dubai. The Dubai Rugby Sevens is one of the major events on the rugby calendar. Local Rugby Clubs are also getting in on the act to cater to those who want to play rugby on a casual or semi-professional basis. With all the rough and tumble involved in rugby, it's only natural to expect the play surface to be tough and durable. That's where artificial grass comes in. We provide artificial grass from the Rhino-Turf range. It's ideal to hold up under high and repeated impact, whilst also being easy on the players when they dive for the ball.
Cricket Sports Grass
Head over to Dubai Sports City if you want to see your favourite international cricket team compete. Why not join a cricket team in one of the many clubs in Dubai? If you're really passionate about the sport, then think about having your very own cricket pitch in your back yard. Although finding the most suitable artificial grass to play cricket in Dubai isn't easy, we've risen to the challenge. Our synthetic grass is durable even in areas of the pitch that's prone to a high-level of wear and tear.
Tennis Sports Grass
The Dubai Duty Free Tennis Championships is a must for tennis enthusiasts. Watch the likes of Roger Federer, Venus and Serena Williams, Rafael Nadal and other greats battle it out to become the champion. Do you fancy picking up a tennis racket to perfect your skills? You'll be spoilt for choice by the amount of private tennis clubs and hotels where you can have a tennis match. Although different types of tennis courts require distinctive artificial grass, we're able to cater to all of your requirements. Playing tennis on synthetic grass in Dubai is ideal for both outdoor and indoor courts. The hot sun won't result in scorched grass and in the unlikely event of rain, play can resume pretty quickly on synthetic grass.
Golf Sports Grass
Playing on a world-renowned golf course in Dubai is one of life's greatest pleasures for any golfing fan. Dubai has gained an enviable reputation for having some of the best golf courses in the world. The breathtaking clubhouses are only upstaged by the stunning greenery. This greenery can be achieved by using artificial grass. Don't be fooled into thinking that synthetic grass only has good looks. Oh no, when carefully installed, it can provide a consistency and quality to rival natural grass. Artificial grass on golf courses in Dubai can also cut-down on maintenance costs. Whether it's for a major golf club, a garden putting green and everything in between, our full range of artificial grass products for golf will get you sorted.
To begin with, it might seem like playing sports on artificial grass is no substitute for playing on real grass. We've showed you why you should think about using synthetic grass as a better alternative. Check-out our artificial grass for sports and you'll be amazed at the durability and ease of maintenance. Who knows, the consistent quality of our artificial grass might even help you to raise your game.
https://easigrass.ae/wp-content/uploads/2016/03/sythetic-grass-for-sports-dubai.jpg
512
768
Easigrass Dubai
https://easigrass.ae/wp-content/uploads/2017/06/artificial-grass-dubai-easigrass_2x.png
Easigrass Dubai
2016-02-24 15:25:28
2022-01-19 11:56:23
What Sports Can Be Played On Artificial Grass In Dubai?