Artificial Grass For Rugby Pitches
Easigrass™ Sport, working in close partnership with our sister company Rhino‐Turf, has been at the forefront of delivering high quality synthetic turf for rugby clubs in the UAE.
From training sessions and coaching clinics, to competitive gameplay, our easy to maintain playing surfaces can withstand everything one of the world's most popular contact sports can throw at it.
As the popularity of the sport increases in the region, players can expect a consistent and reliable artificial pitch designed to hold up all year round.
Synthetic Turf is becoming an accepted aspect of the professional sporting landscape. Football internationals and Champion's League matches have now been played on synthetic turf. Rugby League and Rugby Union are also beginning to embrace this change; The Widnes Vikings installed synthetic turf at their new Rugby League stadium, while Saracens RFC play all their home matches on synthetic-turf as do Cardiff Blues and very soon also Newcastle Falcons and Ealing Trailfinders all in the UK. 
Rhino-Turf is the Easigrass brand for all high end sports product including Rugby and Football Products. Easigrass and Rhino-Turf are one and the same company just different brands aimed at different market segments. The Rhino-Turf brand represents all of our top end, world class, sporting products.
Low Maintenance, Low Cost
Ensuring a natural grass rugby pitch is fit for purpose and consistently playable requires a huge investment of time, energy, and money.
That's why making the switch to artificial grass for rugby makes sense. With a minimal amount of maintenance required to retain its quality, it means fewer man hours being spent on tending to the surface, and lower costs associated with labour, equipment, and water.
And while the initial outlay for the installation of an artificial rugby turf system will be higher than that of a real grass pitch, these costs will be offset by reducing the previously mentioned maintenance costs.
Improved Playing Conditions
Our artificial rugby pitches can be played on 365 days a year without succumbing to weather damage. With superior drainage, waterlogged fields are a thing of the past, and the intense Dubai sunshine won't leave our grass dry and dusty.
No matter the time of year, you can join the scrum knowing you're playing in ideal conditions.
Sports facilities across the UAE should consider installing a durable artificial rugby pitch. Our synthetic grass can withstand more rugby than real grass, and more playable surfaces equates to more teams being able to play and more bookings being taken.
And with the versatility of artificial grass pitches, you can increase revenue by hosting events such as live music without compromising the quality of the playing surface.
Installing artificial turf for your rugby team can take your game to the next level. Chat to us today to find out more.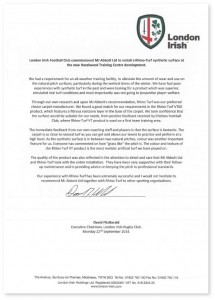 London Irish RFC – UK
Full size rugby field of VT60 turf at the new London Irish Rugby Academy in Sunbury, London
London Irish Rugby Club commissioned  Rhino-Turf to install synthetic surface at the new Hazelwood Training Centre development.
"We had a requirement for an all-weather training facility, to alleviate the amount of wear and use on the natural pitch surfaces, particularly during the wettest times of the winter. We have had poor experiences with synthetic turf in the past and were looking for a product which was superior, simulated real turf conditions and most importantly was not going to jeopardise player welfare.
Through our own research and upon recommendations, Rhino Turf was our preferred choice of turf manufacturer. We found a good match for our requirements in the Rhino-Turf VT60 product, which features a fibrous rootzone layer in the base of the carpet. We took confidence that the surface would be suitable for our needs, from positive feedback received by Chelsea Football Club, where Rhino-Turf VT product is used on a first team training area.
The immediate feedback from our own coaching staff and players is that the surface is fantastic. The carpet is as close to natural turf as you can get and allows our teams to practice and perform at a high level. As the synthetic surface is in between two natural pitches, colour was another important feature for us. Everyone has commented on how "grass like" the pitch is. The colour and texture of the Rhino-Turf VT product is the most realistic artificial turf we have played on.
Our experience with Rhino-Turf has been extremely successful and I would not hesitate to recommend Rhino-Turf to other sporting organisations".
Executive Chairman, London Irish Rugby Club
World Rugby Accredited Surfaces
World Rugby (formerly IRB) was an early adopter of artificial grass surfaces for rugby. A new regulation was introduced in 2003 to ensure all 3G surfaces replicated the playing qualities of natural grass.
This greatly benefited the development of the game in countries where the climate was not conducive to the growth and maintenance of real grass pitches.
Our surfaces have been approved by World Rugby, and provide the highest possible performance standards and consistency, while also confirming the highest player welfare standards.
VT60 Artificial Turf for Rugby
When installing an artificial rugby pitch, we use our superior VT60 turf system, with a shockpad layer, making it the perfect product for professional and amateur rugby clubs looking for a surface to meet the World Rugby international standards.
Our innovative turf concept provides players with a safe and stable playing surface. The fully integrated root zone protection ensures infill splash reduction, resulting in less infill migration and a more even playing field.
High Performance Sports Solutions from Easigrass
Our artificial turf systems are ideal for high performance rugby, and we're confident they can outperform even the best real grass rugby pitches anywhere in the world.
The artificial pitch is specifically designed for a tough tackling, high impact sport such as rugby. The synthetic grass we use is soft, and thanks to a shock pad layer beneath the pitch we can significantly reduce the likelihood of impact injuries during a game.
We also understand that some people are put off by the possibility of skin abrasions when diving into tackles or sliding in a match‐winning try. That's why we always use long pile artificial grass to minimise the friction and mimic the feeling of natural grass.
And our partnership with Rhino‐Turf means our range of products are fully tested and approved. Recognised as the worldwide rugby pitch specialists, the Rhino‐Turf pitches exceed the quality and performance standards set by the sport's governing body.
Easigrass™ Sport can install any size and standard of pitch required, leaving players safe and happy to focus on their game, knowing what's underfoot is tailormade for their sport.